What is a credit rating?
Credit rating enables faster and simpler business decisions when choosing a business partner, competition analysis and risk assessment. They represent support in the process of financial analysis of each business entity.
Credit rating is a set of objectified and standardized data that covers the entire business of one business entity. It is determined on the basis of a special methodology that includes financial and economic analysis of operations in the previous year.
In a credit rating agency Companywall business credit rating is a combination of static and dynamic rating. / p>

Static rating is determined based on performance and liquidity ratios from the annual report.

Dynamic score is a variable value modified by variables such as:
The time period the subject spent in the block
Number and outcome of litigation in which the entity is a party
Tax and other debts
Liquidity
Public-private revenue ratio
Credit rating enables faster, simpler and more efficient business decisions in the process of choosing a business partner, competition analysis and risk assessment, and also represents support in the process of qualitative analysis of the specifics of an individual company.
Credit rating is a necessary economic instrument used in the modern business world as a credible rating of a company's business position.
Certificate of Creditworthiness
Credit Company CompanyWall business classifies potential associates and competing companies into different credit ratings based on their credit rating > and this brings order and a high level of security to the UK business market.
CompanyWall provides customers with a ready-made classification that accurately separates trusted from unreliable partners. Client classification is based on characteristics that are invisible to the average viewer.
Certificate of creditworthiness excellence is a guarantee of reliability that business entities with a credit rating of excellence operate successfully and enjoy the trust of the business world, and awarded only to businesses rated with the highest credit ratings AAA, AA + and A +
Certificate of creditworthiness excellence has a positive effect on the position of an individual business entity in the market because it is a realistic reflection and written confirmation of the successful operation of the company.
The dynamics of the
modern market
impose on customers the pace at which
decisions must
be made overnight.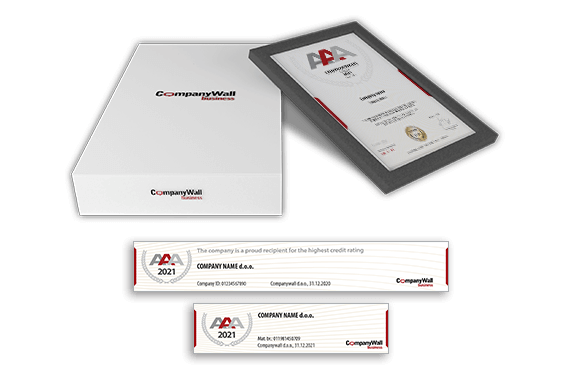 Credit rating grades
---

Extremely high ability to fulfill financial obligations, minimal credit risk.
AAA credit rating ranks a business entity in the highest credit rating class and is determined by a small number of companies that are superior in their areas of business.
AAA credit rating is the belief that a business entity operates without difficulties and complications for a longer period of time.
AAA rating is proof of excellent business and automatically means that the company has never been blocked, ie. to perform all its obligations on a regular basis.
Companies that receive a AAA credit rating are characterized by impeccable solvency and business efficiency. This rating is an unequivocal confirmation of the company's stability and business quality.
The company with the highest credit rating of AAA is a reliable and ideal business partner.

Very high creditworthiness, very low credit risk.
AA + credit rating stands side by side with the highest rating. This means that the company is reliable and stable.
The slightly lower ranking is a consequence of the shorter business period and means that the company is still relatively new to the market, which does not diminish the efficiency of its business.
Cooperation with a company rated AA + does not pose a risk, because it meets all the high standards of a successful business.

High ability to fulfill financial obligations, low credit risk.
A company that has earned a A + credit rating is one that shows no signs of risky business in the future.
Other companies can cooperate with such a company with quality and success, and successful business will continue in the future.
A slightly lower rating was given to these companies due to their business in the past or when it comes to a young company, but it is still a reliable business partner.

Ability to meet financial obligations, the present risk of changing the business climate and economic conditions, as well as significant credit risk.
The company operates satisfactorily, but sometimes has liquidity difficulties.
When choosing a company with a BBB credit rating as a business partner, associate or client, you need to be extra careful.
Such companies, despite financial instability and vulnerability, have the opportunity to progress and recover. This credit rating is specific to companies in the process of restructuring.

Poor ability to fulfill financial obligations, very high credit risk.
The company is operating at risk and will not survive in the future.
The probability of a blockade, bankruptcy or liquidation is almost certain in the next two years.

No credit rating
Credit rating cannot be determined because there is not enough data on the business entity .
This means that the business entity is new to the market, ie established is in the current year and has not yet submitted its annual financial report.
Credit Rating Methodology
This category seeks to explain the process that precedes determining a credit rating for an individual client.
The methodology on the basis of which the decision on the credit rating is made is determined by a rating commission composed of experts in all relevant economic fields. Each analytical category within the methodology is discussed on the basis of the submission of documentation prepared by financial experts, in order to finally reach a credit rating by voting.
Although the collected financial data largely depends on the level at which the client cooperates with the rating agency, the methodology involves a broad process thus ensuring a comprehensive analysis.
Below you can see a more detailed overview of the methodology used to calculate the credit rating .
CompanyWall business competitiveness - the most accurate credit rating
Modern market imposes the need for reliable information on the business of economic entities, which has led to the emergence of numerous credit rating agencies . Although most of them use generally established rules to classify clients into credit ratings , many of them have been declared unreliable, their client certification questionable, and their credit report inaccurate.
Due to these circumstances, firms are became cautious in deciding which "assessor" to trust. Although the methodology used to calculate creditworthiness is based on the most accurate financial and other economic factors, creditworthiness is largely an opinion.
Although these are The opinions of experts and financial analysts , however, remain somewhat inaccurate. Due to the subjective approach and the absence of standardized data that can be subjected to strict statistical analyzes, the credit rating of business entities remains to some extent open to more arbitrary interpretations.
Global and local political factors and financial conditions are difficult to predict , which makes credit rating speculative.
CompanyWall to minimize uncertainty and increase objectivity and reliability credit rating, bases its rating methodology on a unique combination of objective numerical analysis and subjective expert opinions . This way of working has proven to be the most efficient and was established on the basis of the work of the world's largest credit rating agencies.
Independent credit rating agency CompanyWall business has an important role in establishing a stable and objective financial data architecture in Serbia. The popularity of credit rating stems from the simplicity where numerous data are represented by a single symbol. Certification and credit reports contribute to the development of the financial market and are important for easier orientation and determination of a more precise financial situation in the country. They are also of great help to investors to get a more accurate view of both stable and insecure foreign economic structures in the country.
Businesses, firms and institutions rely on data, ratings and certification performed for them by CompanyWall business, and The importance of our credit rating agency is increased by the appearance of a large number of credit derivatives and financial products that depend on the financial capacity of the partner and the probability of default.
Recognizing these facts, firms that operate with higher credit risks have themselves begun to require financial analysis of their operations in order to increase their legitimacy and expand investment opportunities.